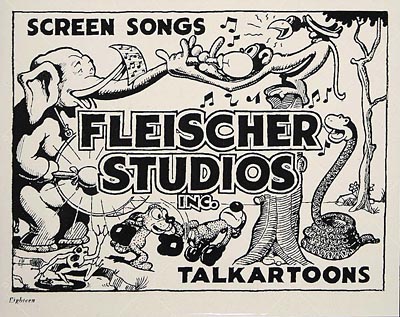 Fleischer
Max Fleischer and his brother Dave Fleischer began making cartoons in the late 1910s for Bray Studios, pioneering the technique of rotoscoping (drawing on top of live action film) to make their Out of the Inkwell cartoons. These cartoons pitted an animated clown against live-action producer Max Fleischer in creative ways. "The Inkwell Clown" was eventually dubbed Ko-Ko the Clown (or KoKo the Clown or Koko the Clown, the spelling has gone through a few different iterations). In 1921, the Fleischers left Bray Studios and formed their own studio (originally called Inkwell Studios). In 1924 animator Dick Huemer redesigned Ko-Ko in order to phase out the expensive rotoscoping process and brought in Fitz the Dog, a chaos-loving partner for Ko-Ko.
In 1930, Fleischer Studios broke into sound films. Due to legal issues with their previous distributor, Fleischer Studios were unable to use their previous characters. Inspired by Fitz the Dog, the studio created Bimbo, a black dog in the protagonist role. Not long after that, animator Grim Natwick designed Betty Boop as a french poodle girlfriend for Bimbo. Unlike the usually stout and sanitized depiction of women in cartoons, Betty was tall and curvy, often singing jazz and embracing her sexuality. She quickly became a star, and the Talkartoons series she was developed in made way for a "Betty Boop" series of cartoons.
However, the Hays Code, which came into place in 1934 was not kind on Betty Boop. Her iconic dress was banned, forcing her to cover her shoulders and adapt a dress below the knees. Bimbo and Ko-Ko left the stage. As Betty Boop was turned into a human a few years prior, Bimbo the Dog could no longer be her girlfriend, as it fell under "bestiality" in the new film code. This changed her world as well, as the anthropomorphic animals that inhabited it were removed along with Bimbo.
Betty's cartoons were built on themes deemed inappropriate by the Hays Code. Fleischer films pre-1934 most prominently featured sexual themes, but also had references to drugs and alcohol (Examples are the famous "St. James Infirmary" scene in "Snow White" or, earlier, the scenes at the end of "Swing You Sinners!" which could be read as depicting being high on opiates. Note that these are both famous surrealistic scenes. Past 1934, almost none of the classic Fleischer surrealism remained). The themes of the cartoons post-code changed to putting Betty in a motherly position to a mariad of characters, most often her small dog Pudgy. While cute, her cartoons become drastically less interesting and by 1939, Betty Boop cartoons were no more.
Fleischer Studios also famously produced Popeye cartoons starting in 1933 and the 1940s animated Superman. The former of these films interests me more than the later, but both are beyond the scope of this page.
Cartoon Reccs
The Clown's Little Brother (1920)
The Mechanical Doll (1922)
Bed Time (1923)
Ko-Ko's Earth Control (1928)
Ko-Ko's Haunted House (1928)
Dizzy Dishes (1930)
Barnacle Bill (1930)
Swing, You Sinners! (1930) - (content warning for racial stereotypes)
Mysterious Mose (1930) ★ webmaster's favorite
The Bum Bandit (1931) - (content warning for a racial stereotype)
Bimbo's Initiation (1931)
Mask-A-Raid (1931)
Boop-Oop-A-Doop (1932) - (content warning for the antagonist attempting rape)
Minnie the Moocher (1932)
Snow White (1933)
The Old Man of the Mountain (1933) - (content warning for the antagonist attempting rape)
I Heard (1933)
Red Hot Mama (1934)
Poor Cinderella (1934)
A Language All My Own (1935)
Sally Swing (1938)
Music
Here is a collection of my favorite music that was featured in Fleischer cartoons!
Load Videos in A New Window
Bonus
Betty Boop Wiki's Page on Baby Esther Jones - A lot of rumors go around about Baby Esther (not to be confused with Little Esther, a later performer) who was a child performer that originated the "booping" style of scat and baby-talk. Clear up any confusion with this thoroughly-researched article, citing many contemperary newspaper articles.
Alternatively, information is available on the Baby Esther Jones wordpress.

This newsreel footage showcasing all of Betty Boop's original voice actresses.


These clips of live action Betty Boop segments featuring her voice actresses Mae Questel and Bonnie Poe as Betty.